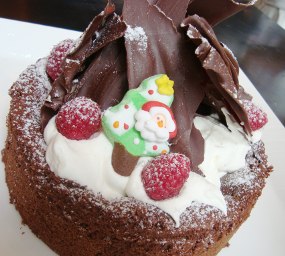 Jakarta - Though not use wheat flour, cake this one is very soft and sticky. Smooth texture of egg whites and butter together with a sweet chocolate flavor. Once given the cream and chocolate shavings, hmmm .. more tongues caressed delicious!
Material:
180 g of dark chocolate couverture, chopped
85 g butter
70 g (3 grains) of chicken egg yolk
180 g of chicken egg white
50 g sugar
Complement:
Whipped cream
Chocolate Se-rut
Powdered sugar
Fresh Fruits
How to make
* Tim chocolate and butter until melted. Lift.
* Stir, stir until warm.
* Put the egg yolks, mix well.
* Beat the egg whites while adding sugar until thick.
* Put into the chocolate mixture, stir well.
* Pour into greased round 18 cm to 3 / 4 high brass. (Because the cake will expand somewhat
high)
* Bake in hot oven 170 C for 30 minutes.
* Remove and let cool. Remove from pan. Cake will be slightly concave in the middle.
* Place the cake on a serving plate, give the supplementary material.
* Serve.
Source:
JW Marriott Jakarta - detikFood